Summit Meeting … with Marika Andersson – An Aussie hooked by the E5
(Dieses Interview gibt's natürlich auch auf Deutsch.)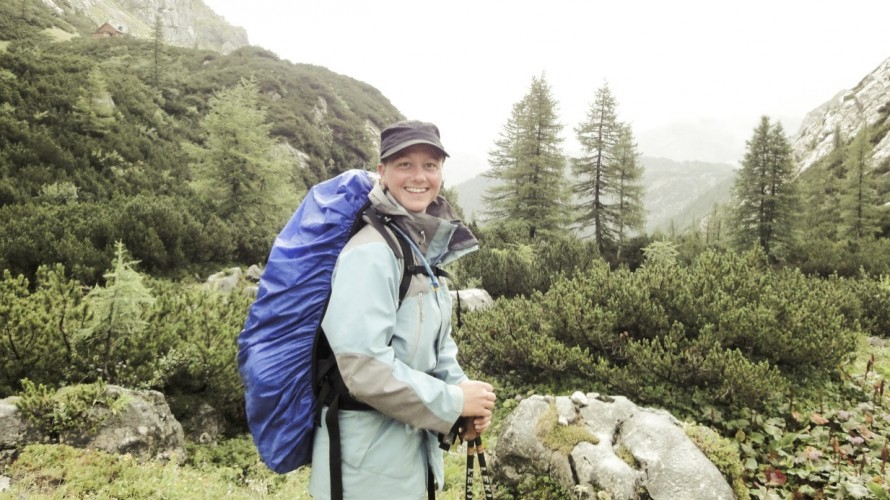 Where does your enthusiasm for the mountains come from?
Growing up I spent a lot of time in the outdoors camping with my family. But in Far North Queensland (FNQ), Australia there aren't any tall mountains. So it wasn't until I visited Canada in 2000 that I got a passion for the mountains.
"Once crossing the Alps!" – For many German hikers, this is a big dream. In 2010, you hiked the E5 from Oberstdorf to Italy. What made you want to do this and how did you experience the hike?
My partner Byron met a German girl when he was volunteering in New Zealand in 2003. She had talked about the Via Alpina (E5) and we just HAD to hike it one day. In 2010, our dream came true. The hike far exceeded our expectations. It is a hike we recommend to every mountain enthusiast we meet.
Together with your family, you live in Cairns, in northern Australia. What's the one outdoor activity one should not miss when visiting the area?
Scuba diving on the Great Barrier Reef! Yes, its worlds apart from the mountains but an awesome activity to do in the tropics.
Your son Jack is 18 months old. How did enjoying the outdoors change for you and Byron since you are parents?
We spend a lot of time in the outdoors with Jack and he sure shares our passion for the outdoors. But we've had to limit ourselves for a while to day hikes and "softer" styles of outdoor activities. We're very lucky that he enjoys the hiking backpack he sits in on our backs!
A while ago, you started with trail running. What has been your favourite trail so far? Which race do you aim for in 2014?
My favourite trail was called the Speewah Legends trail run, a 17 km undulating run in dense rainforest in FNQ. A technical trail run with large tree roots underfoot and many creek crossings to make things interesting.
Which tour stands at the very top of your wish list?
In 2014, I aim to complete the entire Trail Running Series in FNQ and better my time in the Great Barrier Reef Half Marathon (which I competed in for the first time in 2013). There aren't many hikes left that I dream of completing as I aimed to do these before Jack arrived. But, we're off to Tasmania in Febuary 2014 to do some day hikes (Cradle Mountain, etc) and flyfishing.
And now: Close your eyes and dream! Financing and time are no issue – where will you go to?
I would drive our Landrover around the world hiking, camping and meeting the locals … hmmmm, now my imagination runs wild.
A hut that you especially recommend?
The first one we experienced on the Via Alpina (Kemptner Hutte). It was our first experience with the mountain huts in the alps and we thought we had stumbled across a castle at the end of a long, wet and heavy first day. We had planned on tenting* the entire hike but after reaching the Kemptner Hutte we were hooked. We thought it was very reasonably priced and had all the creature comforts of home – i.e. hot showers, hot food, warm beds, great company and beer. And it saved us carrying an extra four kilograms of tenting equipment! We simple deposited it in the next valley.
Where do we meet you if you are not in the mountains?
I like to spend lots of time with Jack and Byron camping, hiking or swimming. It is summer in the tropics after all!!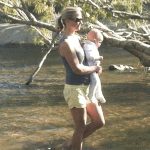 Marika Andersson (born in 1979) lives in tropical Cairns, in the northernmost part of Queensland. The Australian mother with Swedish roots works as a customer service officer at Thrifty Car Rental. In 2010, her travels around the world led her to the E5 where she made one of her dream come true: Crossing the Alps.
(* Good to know when crossing the Alps: Planned tenting or bivouacing is not allowed in Germany, Austria, and Italy. It can become really costly, if you do it anyway. A possible exception is staying on private ground. You will need an explicit permit of the landowner, though. A regulation such as the Everyman's Right (allemannsretten) of the Nordic countries is not known here.)